Letter From Tim Farley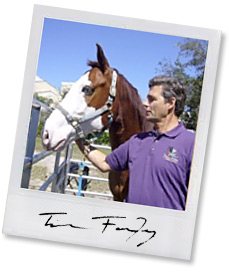 Join us in celebrating the excitement and adventures of my father's famous wild horse, "The Black Stallion"! Black Stallion is as fascinating today as he was 70 years ago when my dad, Walter Farley, dreamed of him running free in the desert. His school story, started on his the kitchen table, carried us around the world by a stallion that the New York Times called "… about the most famous horse of the century." This site is dedicated to the world of your imagination and all things "Black Stallion".
On the News Blog we often have Free Contests in art, writing or just for fun. We gather information about exciting new Horse Books and classic ones too. A variety of children's books, horse movies and current horse topics are explored weekly.
We're always looking for new "news" to share so if you have something special please drop me a line at stallionfanmail@aol.com or on Alec Ramsay's FaceBook page.
If you are a school, teacher or student and you're interested in participating in any of our Live Events, or volunteering with our non-profit reading program, be sure to visit WildHorseTales.org (Formerly known as Horse Tales Literacy Project).
In case you are looking for the exclusive original Bucephaus figurine in bronze or silver from the Black Stallion movie you have also come to the right place! Visit our Gift Shop to find a few really neat items.
Enjoy the Ride!
~ Tim Farley